Contributor: Tim Hickey
The recent folding of the Strikeforce brand of MMA has made the UFC roster as strong and as deep as it ever has been. They control the majority of the best fighters on the planet in the majority of the divisions.  But, the MMA world does not begin and end with the UFC. It is a big bad world out there, and there are still a number of UFC caliber fighters outside the organization, just waiting for their call to the big show. In these series of articles, I will be covering some of the best fighters who currently don't ply their trade within the world of Zuffa. I have also omitted fighters who have been in the UFC within the past 24 months, and focusing primarily on the fighters who have yet to make their Octagon debuts.
This week I will be focusing in on the lighter weight classes. The Flyweight and Batamweight divisions still have a number of talented fighters out in the world; this is but a few of them.
Darrell Montague
Weightclass: Flyweight
Career Record: 12-2
Notable Victories: Mamoru Yamaguchi, Ulysses Gomez.
Championships: Former Tachi Palace Flyweight Champion
Video: Fight with Ian McCall
A former wrestler from Chino, California, Montague has proved to be one of the best prospects in his entire division. His only loss in the last 4 years has been to current UFC fighter Ian McCall back in 2010, and he has since rung off 3 straight victories. Currently plying his trade in Japan Vale Tudo, Montague has shown himself to be an excellent finisher (75% of his wins are by sub or (T)KO) and one thinks it will only be a matter of time before he is brought into the fold of the UFC's shallow Flyweight division.
Josh Sampo
Weightclass: Flyweight
Career Record: 9-2
Notable Victories:  Alexis Vila, Antonio Banuelos.
Championships: Current Championship Fighting Alliance champion.
A former All American wrestler, Sampo has shown to have a solid all around game.  He has had some professional Muay Thai fights, and 5 of his 9 victories have come via submission. He recently had a come from behind submission over former Bellator title challenger Alexis Vila (guillotine in the 5th round), which has seen Sampo's stock has begun to rise and he is surely on the UFC radar.
Bibiano Fernandes
Weightclass: Bantamweight
Career Record: 13-3
Notable Victories:  Joe Warren, Joachim Hansen, Hiroyuki Takaya, Antonio Banuelos
Championships: Former DREAM Featherweight champion.
Video: Highlight Video
Bibiano Fernandes, a 5 time World BJJ champion and 3 time Pan American BJJ champion, has made a living out of fighting tough guys.  In his second pro MMA fight, he fought former WEC posterboy Urijah Faber. He gave the then 15 – 1 Faber everything he could handle in the first round, taking the former WEC champions back early before ended up on the bottom and eating devastating elbows until a stoppage. A year later, "The Flash" next fought against Japan's 145 kingpin Norifumi "Kid" Yamamoto. Although again coming up short in that fight, Fernandes was the first person to go to decision with "Kid" in 4 years. Fernandes would later become the DREAM featherweight champion, defending it once before losing it in a rematch with Hiroyuki Takaya. He flirted with signing with the UFC in the summer of 2012, but instead chose to take more money and sign with OneFC.
Eduardo Dantas
Weightclass: Bantamweight
Career Record: 15-3
Notable Victories: Marcos Galvao, Zach Makovsky, Alexis Vila, Luis Nogueira, Wilson Reis
Championships: Current Bellator Bantamweight Champion
Video: Highlight Video
A product of the famed Nova Uniao gym, Dantas has proven to be one of the most exciting lighter weight fighters in the world. He has demonstrated a vicious Muay Thai game, and loves to throw soul stealing knees and constantly bring the fight to his opponents. He is only 24 years old and is consistently improving his overall fight game. Dantas is easily one of best prospects in all of MMA, and training with a group of killers in Nova Uniao can only make him a better fighter. Do not be surprised if he someday becomes another Bellator fighter the UFC tries to lure over to the bright lights.
Tyson Nam
Weightclass: Bantamweight
Career Record: 12-4
Notable Victories:  Eduardo Dantas,
Championships: None
Video: Upset win over Eduardo Dantas
A former Icon Sport and Elite XC competitor, Nam captured the attention of the MMA world when he knocked out Bellator Bantamweight champion Eduardo Dantas in August of 2012. After this huge upset victory, a number of promotions attempted to sign Nam based on that big win. Unfortunately, where he had signed a contract with Bellator back in 2011 (and despite never fighting for the organization due to a number of cancelled bouts ) they held the rights to match any contract offered. Due to this, there was a battle for his services until Bellator finally relented and Nam signed with World Series of Fighting. Unfortunately for Nam, because of the issues with Bellator, he has only fought once in the last year and a half. He is set to meet Marlon Moraes at the next WSOF card.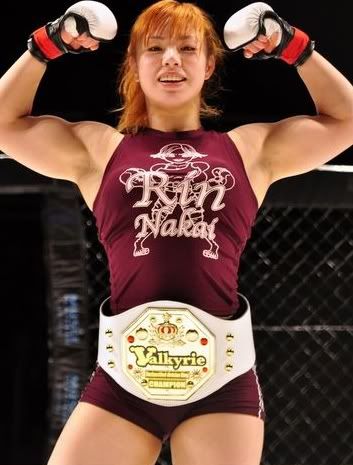 Rin Nakai
Weightclass: Bantamweight (female)
Career Record: 13-0-1
Championships: Queen of Pancrase
A female MMA icon in Japan, Rin Nakai is a Judoka who has finished 9 of her 14 opponents (7 in the first round). Sound familiar? While she doesn't have the credentials that Ronda Rousey has, she is a huge 135lber, and would make for an interesting matchup with the face of Women's MMA. Nakai's biggest knock is the fact that she has not fought an overly strong schedule. Her opponents combined records are 74-86 (including a fighter that was 6-25). In the last 2 years she has only fought 1 opponent with a winning record. While I by no means think she could step in and beat Rousey, she could be some fresh blood for the women's division in the UFC.
Mamoru Yamaguchi
Weightclass: Flyweight
Career Record: 26-7-3
Notable Victories: Yasuhiro Urushitani, Frank Baca
Championships: KOTC Flyweight champion, former Shooto Flyweight champion, former Shooto Featherweight champion.
Video: Highlight Video
With solid technical boxing, vicious knees, and a willingness to come forward and brawl, Yamaguchi is a fan favorite in his native Japan. With over 13 years of experience in professional MMA, he is by far the most experienced fighter on our list. Despite dropping decisions to top 10 flyweights Jussier Formiga and Darrell Montague in his last two fights, Yamaguchi is a handful for any 125lber in the world.
-Tim can be reached @timhickey80.